Aux P'tits Couverts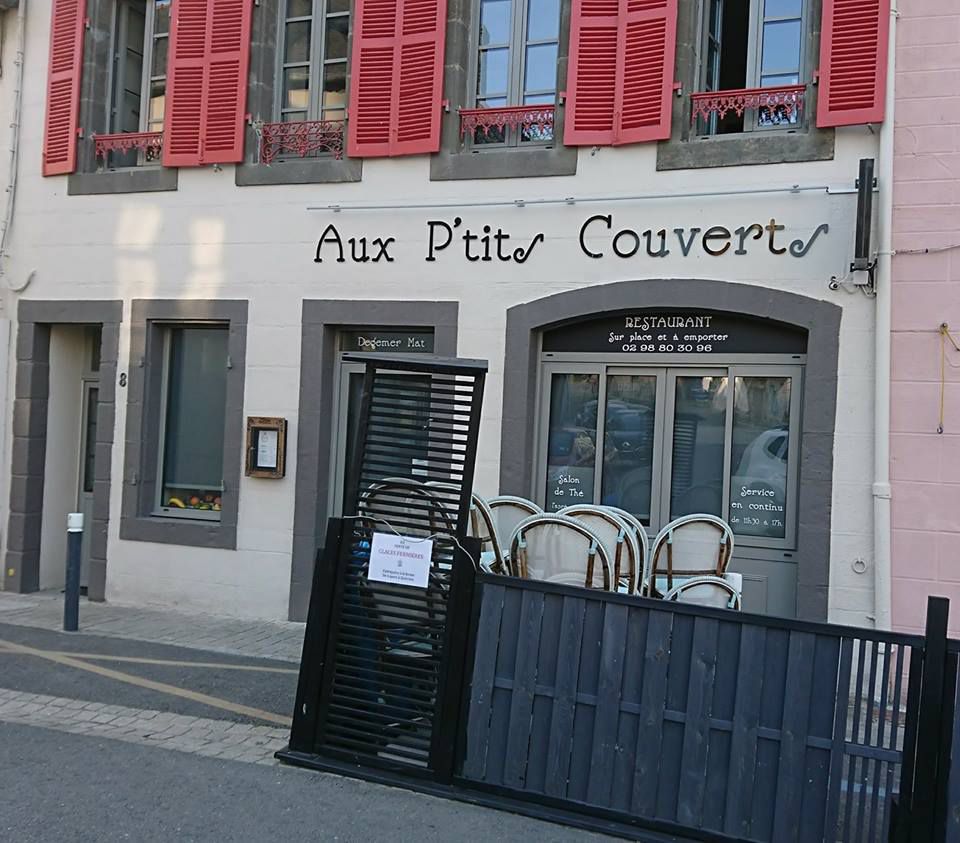 I am an epicurean, a tester of pleasures. So I am commissioned by Sophie to test the restaurant Aux P'tits couverts.
Aux P'tits couverts is not a gourmet restaurant but a place where you can eat quickly and the service is available from 11:30 am to 5:30 pm. Most of the dishes are homemade and organic. Some products like the sandwiches and yogurts come from local traders who have been selected for their motivation to produce quality.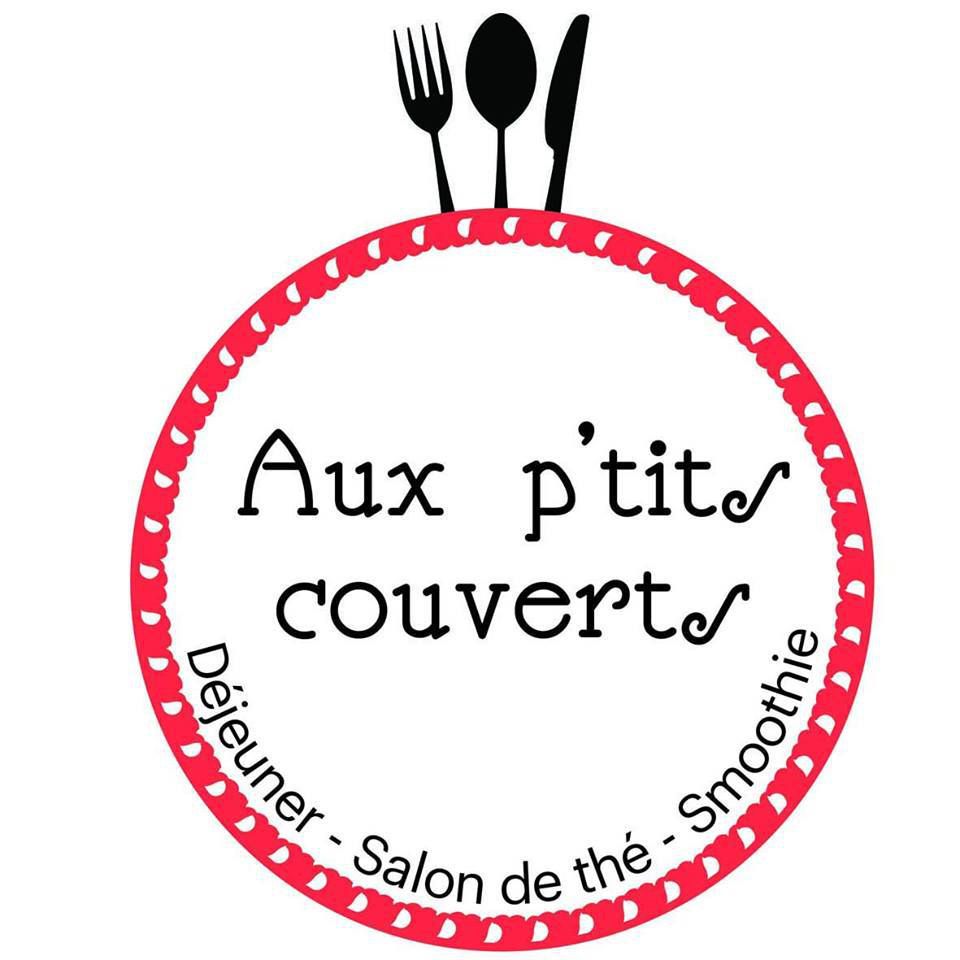 The weather is sunny and some people are seated on the small terrace facing Saint Thomas church. As we walked in, we are welcomed by a smiling and friendly couple. There are lots of dishes, salads, sandwiches, paninis, quiches, desserts, yogurt, smoothies… on display and I do not know what to choose. Everything looks so yummy. My favorite blogger, Sophie, has no hesitation. She opts for a spinach pudding followed by a chocolate banana pie.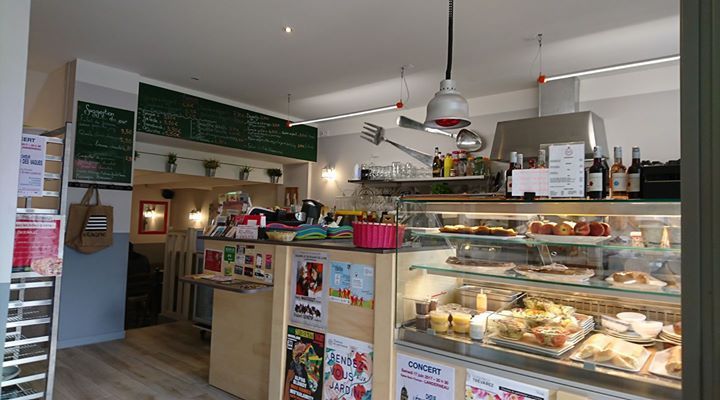 A cat bumps its head on me, then goes on nonchalantly to its basket. The feline curls up for an afternoon nap. What a life!
Caught between so many tasty choices, the cook starts to explain me the different existing menus (at attractive prices). I am tempted by a quiche with goat cheese makes me look. Eventually, I opt for the Menu of the Day: chicken aiguillettes with mushroom sauce and organic pasta.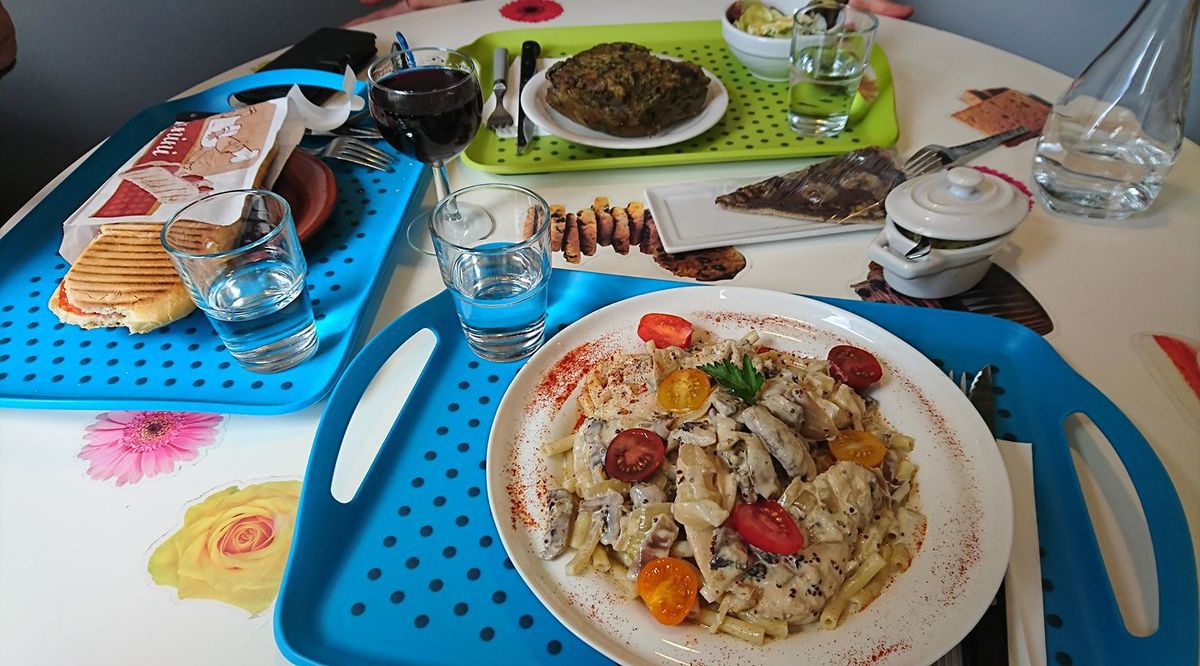 Sophie and I both liked the taste of our dishes and will certainly come back to test other menus !
Practical information:
8 Place Saint-Thomas, 29800 Landerneau. Phone : 02 98 80 30 96
Opening hours: tous les jours de 11 h 30 à 17 h 30
forthefoodies-forthefoodies-forthefoodies-forthefoodies-forthefoodies-forthefoodies-forthefoodies-forthefoodies-forthefoodies-forthefoodies-
The "

CHIC

&

CHOC

" chocolaterie
The happy recipient of the lovely Chic & Choc gift box told me that the wide brimmed round hats (= typical breton hats) made in chocolate - flagship products of this new boutique Chic & Choc Création - are "delicious !!". And that's the main thing, right? However, I couldn't hide my disappointment when my mother opened the green-anise box to unveil 6 chocolate headgears, 3 of which were already broken. Perhaps due to my indelicacy? … So note to myself for next time: have the chocolate maker check the entire product in front of me, check the expiry date, and gently put the packaging horizontally on the passenger seat of my car and avoid old bumpy roads !
Old drinking song about Bretons and their traditional wide brimmed round hats
All these precautions to offer oneself or others among the best chocolates around! If you are an amateur, the cocoa range created by Chic & Choc Création will delight you: great premier cru chocolate from Peru or the Dominican Republic. Black or milk chocolates, subtly mixed with strawberry, caramel in salted butter, black wheat crumble with praliné, etc. No food coloring or preservative. YummMMMmmY ! Apart from the cocoa, the craft chocolate maker Anthony Placier, a native of Landerneau, buys everything locally. Thumbs up !
Today, the chocolaterie is located in the BEL-AIR commercial area, 10 minutes away by car from the city center.  Hopefully one day, Anthony Placier will open a shop window overlooking the banks of the Elorn river, in the heart of Landerneau !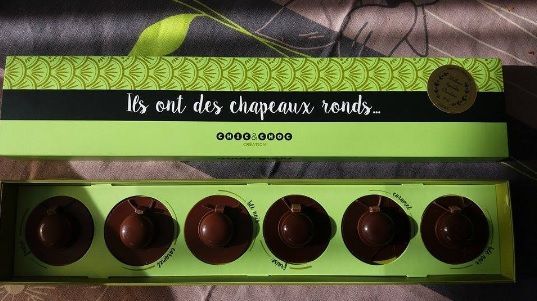 Fancy "Chic" chocolate box
Practical information
Chocolaterie Chic & Choc Création, 165, rue du 19-Mars-1962, zone de Bel-Air in Landerneau.
Chic & Choc was awarded the « 2017 Best Chocolate Specialty»
Website (You can order online!)
forthefoodies-forthefoodies-forthefoodies-forthefoodies-forthefoodies-forthefoodies-forthefoodies-forthefoodies-forthefoodies-forthefoodies-
The "Plaisirs Sucrés" pastry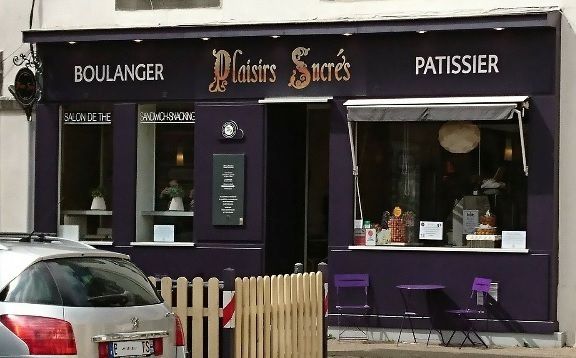 How many times have I passed by this pretty shop window? Several times and always with a strong desire to enter the elegant pastry, without daring! But this time, there is a new detail that rings me a bell: the baker's name written on the door, Henry Boedec. Could it be THE Henry Boedec that I dated more than 30 years ago? My first boyfriend from high school? The one that I dearly loved. We went out to so many parties together. I remember especially the ones in his parents' basement and in my parents' garage! Henry made a strong impression on me. He was always in a good mood, always smiling. He had a lot of charisma and I never forgot him.
Today, the weather is nice, so I have decided to go for a walk in Landerneau and do some shopping. I walk along the street La Fontaine Blanche. I pass by the Fonds Hélène and Edouard Leclerc (FHEL) and spot on the other side of the street an empty shop, which windows have been covered with big white sheets of paper. I wonder if a new shop will open there and if so, what kind of business it will be… I stroll around this long street and do some shop-gazing. Many items are hidden by kraft or silk papers so that the sun don't bleach their colors.
The street La Fontaine Blanche
Once arrived on the market place, I turn right and find myself in front of the pastry Plaisirs Sucrés. I pass the automatic sliding door. There are people in the tea room. In front of me, a couple is buying bread, and two mothers and their children are choosing cakes. When my turn comes, I order a green tea (organic tea, my dear Sophie!) and two macaroons, one with coconut, the other one with caramel mixed with salted butter. The decor is stylish, modern and is an appeal for relaxation. From the shop window, one can see the dock Quai du Léon and Saint Thomas church.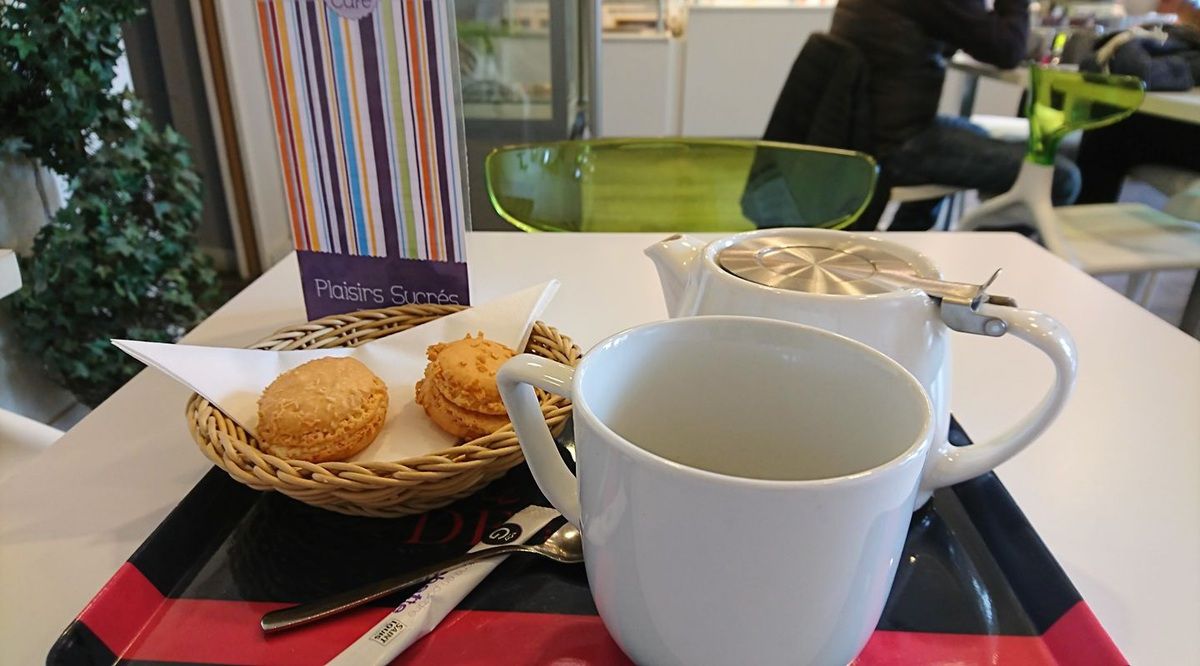 It is already 6 o'clock. The tea room will close its doors very shortly, however there is one hour left for customers to buy cakes, pastries, chocolates, breads... As I am paying my check, I ask the girl at the counter to « say hello to Henry from a very very old girlfriend ». She explains me that he is preparing the choux pastry, but « I'm checking whether he can come or not. I'll be right back ! » Oops! I did not expect that coming, but I'm so excited to see him again. When he shows up… WHAT SHOCK! He has not changed at all physically and this smile…
OMG ! What a great pleasure to meet him after all these years. We stayed together at least twenty minutes to talk about our lives, careers and the different places he worked before coming back to Landerneau (in Paris « chez Guy Savoy », at the « Grand Café Capucine », at the « Fouquet's » where he was assistant pastry chef, and on cruises for various American companies as pastry chef). A pledge of excellence and a guarantee of the exceptional! He also introduces me to his partner, Eric Sabatier, who is responsible - among other things - for the beautiful decoration.
Henry tells me that they are going to open a new pastry… Guess where? On the street La Fontaine Blanche where I noticed earlier this front store covered with sheets of paper, right in front of the FHEL! What a delight for the visitors of the contemporary art museum to exchange their impression on pieces of art while spoiling themselves with other pieces of art, this time culinary!
Practical information
Plaisirs Sucrés, 10 Rue Chanoine Kerbrat, 29800 Landerneau
Opening hours: Monday to Sunday from 7am to 2pm – 3:30pm to 7pm (Closed on Thursday)
forthefoodies-forthefoodies-forthefoodies-forthefoodies-forthefoodies-forthefoodies-forthefoodies-forthefoodies-forthefoodies-forthefoodies-