The best foot massage in Logonna-Daoulas
« - I'm warning you. I'm not going to give you a little tickle!
- Good thing ! I like it when it hurts. »
This conversation is not the result of a sado masochistic dream but the beginning of a reflexology session in which I entrusted my feet battered by the twisted paths of earthly life to the expert manipulations of Véronique Bodennec, who graduated in Reflexology back in 2009.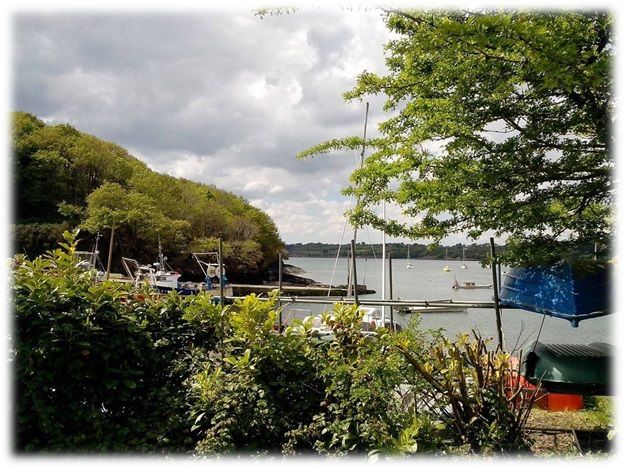 Pors Beac'h @Logonna-Daoulas
I went round and round in circles when I arrived in Pors Beac'h (« 

The Woodstock by the Sea

 ») in Logonna-Daoulas

. I could only see the oyster / mussel shed Le Moal facing the sea, a few cars in the car park, three men hovering around the hull of a boat and a dog watching me with a baleful eye.
I stayed there for a while, observing the sea, the men in great discussion. I sticked my tongue out to the dog (I was still in my car). Then I looked into the details of my map printed on a piece of paper. There should be a small road beyond the harbor and the oyster farm. I raise my head and look to my right. Indeed, a huge blue foot with "Reflexology" written on it is jumping right to my eyes! How could I miss it when I arrived 10 minutes ago?! « Ciao Big Doggie! », I say to the growling dog.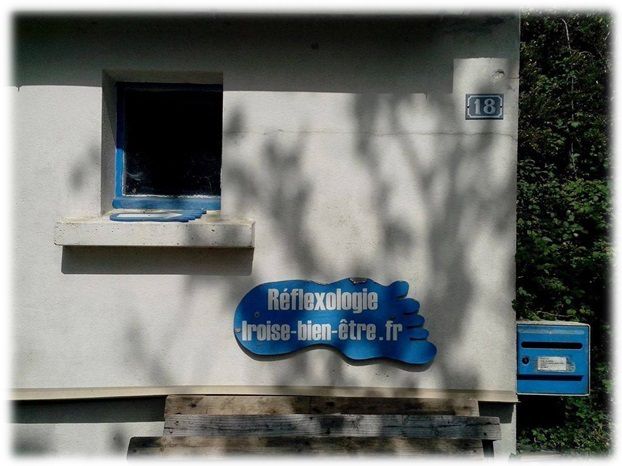 Entrance to the Iroise Bien-Être reflexology center 
The basement of a private house has been converted into an office. I can see a large podiatry chair standing in the middle of it though a bay window. I am a little ahead of time, but Véronique Bodennec comes to meet me and invites me to enter her « podal world », postcards and humorous illustrations relating to the feet brightening her walls. I take off my shoes and sit in the large white armchair.
The expert puts talcum powder on my feet while asking me some questions about my life, my job, my possible physical, psychological, physiological problems. I confidently answer her questions, realizing during the session that I won't be able to hide my little secrets anyway, my feet will reveal her my true self!!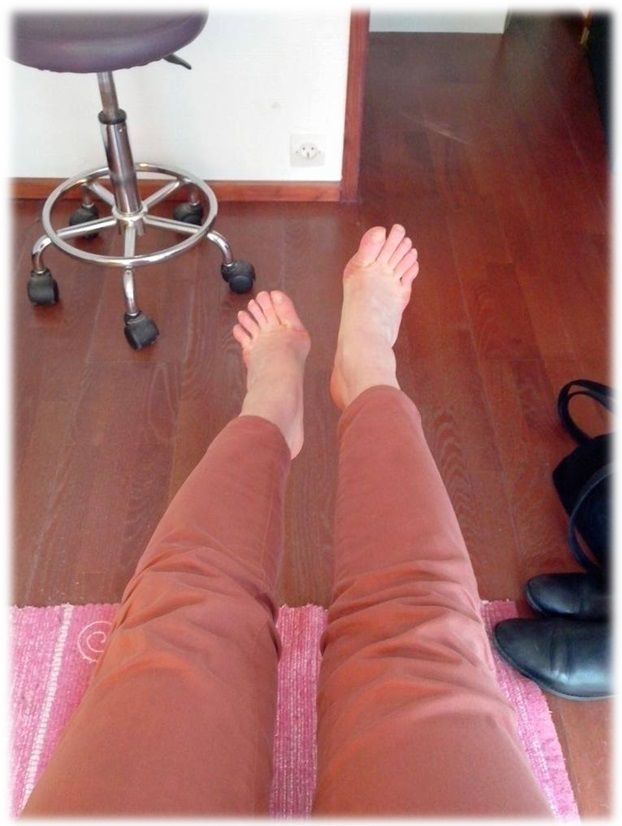 My feet are ready!!
At first, the massage is pretty soft, somewhat rougher tickles, but still nice. Véronique warns me: « I will insist on some areas. There will be 5 painful spots, I will warn you then. The experience goes crescendo ... I very well remember the « OOOoooUUUUUucH » stimulation of the pituitary gland, causing a hormonal discharge (as per the reflexologist). Ten minutes later, I am drowsy even though the intensive modeling continues. I also remember the stimulation of the adrenal glands, another great « OOOoooUUUUUucH » moment during which I retrain myself from kicking her hands back off my little overstimulated tootsies!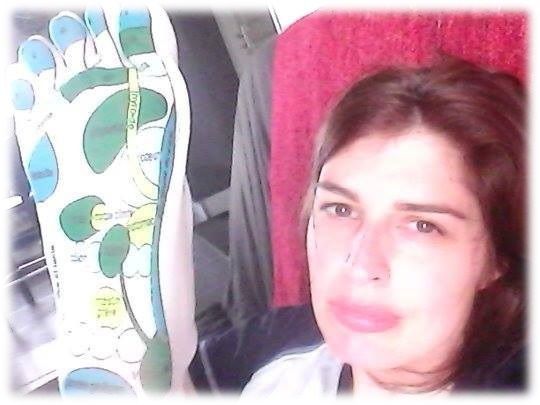 My fiancé offered me reflexology socks (arf !)
When I think about the reflexology socks I gave Nelly for her last birthday, I feel bad!! Honestly, nothing beats a REAL massage lavished by a real professional. Nothing beats sensory experiences over material gifts: I can only share and recommend you this great address by the sea!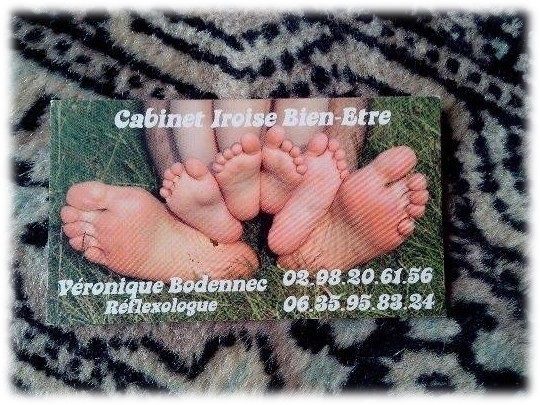 Practical information :
Véronique Bodennec, reflexologist
Pors Beac'h @ Logonna-Daoulas or Brest